Mouser Block
The Mouser Block & Brand New Mini-Block!
The heaviest block press of all time was performed with the Mouser Block on 7/8/17 by Steve Schmidt of the United States at "America's Strongest Viking". Check it out here:
The Mouser Block is a plate loadable steel strongman block for pressing, carrying, loading, and simply making you stronger. This professionally built training tool is also the perfect implement to add to any competition. Whether you are a competitor, a promoter, or both, this nearly indestructible piece of equipment is going to help you take your strongman game to the next level.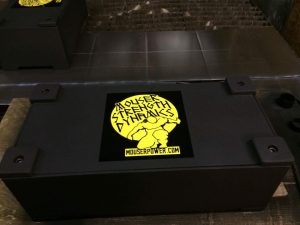 *plate loads from 120 to 370 pounds, and is the only plate loaded block on the market
*special "foot" design on each to allow you to get your fingers under it and protects the walls from damage
*spacers inside to center the added weights
*super easy weight adjustment – just remove a few hidden screws and the lid comes right off
*press it, load it, carry it, lift it anyway you want – 26″ length
*made in the USA, by strongman competitors for strongman competitors
*Only $699, less than many professional grade barbells
The Mini-Block!
*Plate loads from 75 to 175+
*21″ length and more compact design perfect for smaller body types
*Only $635, and just as indestructible as the Big Block
Contact Paul for ordering information and shipping quote at:
or, hit Paul up on Facebook at:
https://www.facebook.com/profile.php?id=100006443625660
Contests featuring the Mouser Block (updated 1/28/17):
4/22 – Strength for Autism, PA – loading medley
5/13 – Big Phil Classic, OH – epic press medley
7/8 – America's Strongest Viking, WV – max press & loading medley
9/23 – FallFest 3, MD – carry for time
12/2 – Lightning Fitness Co-Ed Strong(wo)man, pressing medley
Mouser Block Press Records – (inaugural records set for July 8th 2017 at America's Strongest Viking!)
WORLD RECORDS (World records must occur in a contest in front a seasoned referee. Unbroken video of the lift and the Block being weighed must be submitted to Paul Mouser for approval.  Additionally, an official form -available upon request- must be filled out in its entirety, signed by all required parties, and submitted as well.)
LWW 120
Open – Lacy King, MD, 98lbs,  America's Strongest Viking 2017
Masters –
LWW 140
Open – Star Ara, WV, 108lbs,  America's Strongest Viking 2017
Masters –
MWW 160
Open – Stacey Marlar, OH, 78lbs,  America's Strongest Viking 2017
Masters –
MWW 180
Open – Ashlyn Harlan, WV, 158lbs,  America's Strongest Viking 2017
Masters –
HWW 200
Open – Wendi Wentzell-Cuc, WV, 108lbs,  America's Strongest Viking 2017
Masters –
HWW 201+
Open – Tiffany Drake, WV & Paula Simmons, PA – 148lbs,  America's Strongest Viking 2017
Masters –
LW 150
Open –
Masters –
LW 175
Open – James Bell, MD, 190lbs,  America's Strongest Viking 2017
Masters –
MW 200
Open – Danny Walls, WV, 240lbs,  America's Strongest Viking 2017
Masters –
Teen – Evan Day, MD, 140lbs,  America's Strongest Viking 2017
MW 231
Open – Kenny Hacker, WV, 270lbs,  America's Strongest Viking 2017
Masters –
HW 265
Open – Jake Reynolds, OH, 240lbs,  America's Strongest Viking 2017
Masters – John Shaffer, WV, 190lbs,  America's Strongest Viking 2017
HW 300
Open – Jamie Bland, WV, 240lbs,  America's Strongest Viking 2017
Masters –
SHW 301+
Open – Steve Schmidt, OH, 340lbs,  America's Strongest Viking 2017 **all time block press world record of any kind**
Masters –
Seated Class Men
Bill Petrinczyk, 150lbs, America's Strongest Viking 7/8/2017
NATIONAL RECORDS (USA) (National records must occur in a contest in front a seasoned referee. Unbroken video of the lift and the Block being weighed must be submitted to Paul Mouser for approval.  Additionally, an official form -available upon request- must be filled out in its entirety, signed by all required parties, and submitted as well.)
LWW 120
Open – Lacy King, MD, 98lbs,  America's Strongest Viking 2017
Masters –
LWW 140
Open – Star Ara, WV, 108lbs,  America's Strongest Viking 2017
Masters –
MWW 160
Open – Stacey Marlar, OH, 78lbs,  America's Strongest Viking 2017
Masters –
MWW 180
Open – Ashlyn Harlan, WV, 158lbs,  America's Strongest Viking 2017
Masters –
HWW 200
Open – Wendi Wentzell-Cuc, WV, 108lbs,  America's Strongest Viking 2017
Masters –
HWW 201+
Open – Tiffany Drake, WV & Paula Simmons, PA – 148lbs,  America's Strongest Viking 2017
Masters –
LW 150
Open –
Masters –
LW 175
Open – James Bell, MD, 190lbs,  America's Strongest Viking 2017
Masters –
MW 200
Open – Danny Walls, WV, 240lbs,  America's Strongest Viking 2017
Masters –
Teen – Evan Day, MD, 140lbs,  America's Strongest Viking 2017
MW 231
Open – Kenny Hacker, WV, 270lbs,  America's Strongest Viking 2017
Masters –
HW 265
Open – Jake Reynolds, OH, 240lbs,  America's Strongest Viking 2017
Masters – John Shaffer, WV, 190lbs,  America's Strongest Viking 2017
HW 300
Open – Jamie Bland, WV, 240lbs,  America's Strongest Viking 2017
Masters –
SHW 301+
Open – Steve Schmidt, OH, 340lbs,  America's Strongest Viking 2017 **all time block press world record of any kind**
Masters –
Seated Class Men
Bill Petrinczyk, 150lbs, America's Strongest Viking 7/8/2017
STATE RECORDS (WV) (State records do not require video, though it is encouraged so that we may draw more attention to your accomplishment. State records simply require confirmation from the State Chairperson for the organization in which the lift occured.)
LWW 120
Open – Lacy King, MD, 98lbs,  America's Strongest Viking 2017
Masters –
LWW 140
Open – Star Ara, WV, 108lbs,  America's Strongest Viking 2017
Masters –
MWW 160
Open – Stacey Marlar, OH, 78lbs,  America's Strongest Viking 2017
Masters –
MWW 180
Open – Ashlyn Harlan, WV, 158lbs,  America's Strongest Viking 2017
Masters –
HWW 200
Open – Wendi Wentzell-Cuc, WV, 108lbs,  America's Strongest Viking 2017
Masters –
HWW 201+
Open – Tiffany Drake, WV & Paula Simmons, PA – 148lbs,  America's Strongest Viking 2017
Masters –
LW 150
Open –
Masters –
LW 175
Open – James Bell, MD, 190lbs,  America's Strongest Viking 2017
Masters –
MW 200
Open – Danny Walls, WV, 240lbs,  America's Strongest Viking 2017
Masters –
Teen – Evan Day, MD, 140lbs,  America's Strongest Viking 2017
MW 231
Open – Kenny Hacker, WV, 270lbs,  America's Strongest Viking 2017
Masters –
HW 265
Open – Jake Reynolds, OH, 240lbs,  America's Strongest Viking 2017
Masters – John Shaffer, WV, 190lbs,  America's Strongest Viking 2017
HW 300
Open – Jamie Bland, WV, 240lbs,  America's Strongest Viking 2017
Masters –
SHW 301+
Open – Steve Schmidt, OH, 340lbs,  America's Strongest Viking 2017 **all time block press world record of any kind**
Masters –
Seated Class Men
Bill Petrinczyk, 150lbs, America's Strongest Viking 7/8/2017